Facebook has more than 80 million small businesses around the world using Facebook Pages. And even if we're not supposed to judge a book by its cover… you know as well as I do that it happens. This is why your Facebook cover photo is so important.
But what is a Facebook cover photo? What are the Facebook cover photo size dimensions, and how can you create an image that looks great on desktop AND mobile devices?
This article will teach you everything you need to know and give you the perfect Facebook cover photo template.
Let's dive in!
Start selling online now with Shopify
Start your free trial
What is a Facebook Cover Photo?
When someone visits your Facebook Page, your cover image is the first thing they see and takes up just about the entire screen.
A bad Facebook cover image can have visitors tapping "Back" before they draw their next breath, never returning to your page again. 
However, a well-optimized Facebook cover photo will entice viewers to follow you, explore your Page, interact with your brand, visit your website, and buy from your store.
What is the Facebook Cover Photo Size?
Facebook cover photos (or "Facebook banners") are displayed at 820 pixels wide by 312 pixels tall on desktops, and 640 pixels wide by 360 pixels tall on mobile devices. Your Facebook cover image size must be at least 400 pixels wide and 150 pixels tall.
For best results, Facebook also recommends using a PNG file.
Now, if you're the type of person who likes to get super technical, a Facebook cover photo will load fastest as an sRGB JPG file that's 851 pixels wide, 315 pixels tall, and less than 100 kilobytes.
Okay, still with me?
The Big Problem with Facebook Cover Photos
You may have noticed a problem with Facebook cover images: We only get one Facebook cover photo, but it's displayed differently on desktops and mobile devices.
So, how does Facebook help us solve this issue? Well, they don't.
Facebook isn't trying to annoy us, they're just taking into account the aspect ratios of different devices.
Remember, Facebook is viewed in landscape on desktop and portrait on mobile devices. The problem isn't pixel sizes but the shape.
Take a look at Hershel's Facebook cover photo on desktop:
Now, here's what it looks like in the Facebook mobile app:
Sure, they look similar, but there's a small difference – the image has been cropped on the desktop version.
Let's look at the mobile version again, but this time, I've grayed out the parts of the image that aren't displayed on desktop:
So on mobile devices, the image's top and bottom are expanded by about 75 pixels each.
This is actually really cool.
It means that Facebook isn't squeezing or stretching your Facebook cover photo to fit – so your image will always look its best. This also applies to Facebook cover videos, which we'll talk more about in a moment.
Okay, so how can you make a Facebook cover photo that looks amazing on desktop and mobile devices, with all the different aspect ratios in between?
The Best Facebook Cover Photo Size for Desktop

and

Mobile
The solution to this Facebook cover image problem is to make your photo much taller than the recommended 820 x 312 pixels.
Specifically, your image should be 820 pixels wide by 462 pixels tall.
This gives you 75 extra pixels at the top and bottom of your image that will be cropped when displayed on desktop.
Okay, but what does this look like exactly?
The Perfect Facebook Cover Photo Template for Desktop and Mobile
Here's a Facebook cover photo template that you can use to design an image that looks great on desktop and mobile devices:
The whole image will be displayed on mobile devices. However, the light blue sections will be cropped out when displayed on desktop computers.
To download the Facebook cover photo template, right-click the image, click "Save Image As…", and save the image to your computer.
Up next?
What is the Best Facebook Cover Video Size?
Facebook cover videos are displayed in the same way as photos. For this reason, the recommended Facebook cover video size is also 820 pixels by 462 pixels. Your video also needs to be between 20 to 90 seconds in length.
Facebook cover videos provide a fantastic opportunity to promote your brand or a dedicated marketing message, and can often be more engaging than photos.
But it's not all good news.
Facebook cover videos are less effective on mobile devices, as they don't autoplay. They load as a thumbnail instead.
What's more, the audio in Facebook cover videos doesn't automatically play either – viewers must click on the video to hear the sound. For this reason, it's best to make sure that your video is still interesting and engaging without audio.
That said, when you consider that 85 percent of Facebook users watch videos with the volume turned off, it's good practice to make your videos engaging without sound when posting them on Facebook regardless.
Here's an example of an eye-catching Facebook cover video from watch brand Bremont:

Lastly, don't worry if you already have an awesome video but the dimensions aren't quite right. Before editing your video, simply try uploading the video and using Facebook's "Reposition" feature.
How to Make a Facebook Cover Photo
Now that you understand the dimensions, here are six top tips on how to make a Facebook cover image.
1. Use Shopify's Hatchful to Create a Social Media Brand Package
If you haven't yet created a logo or visual branding for your business, check out Shopify's Hatchful.
This free tool allows you to quickly and easily create an awesome brand package – this includes images formatted for each of your main social media channels.
Hatchful even provides two Facebook cover photo variations:
If you've already got a logo or visual branding, check out free image editing and graphic design tools. We list some further down in this article.
Most graphic design tools come equipped with a Facebook cover photo template. Normally they are formatted for desktop (820 pixels by 312 pixels). So, it's best to create a new design using the dimensions that work for desktop and mobile (820 pixels by 462 pixels).
Then, upload the Facebook cover photo template to your design so you can see which parts of your image will be cropped on desktop devices.
Here it is again for convenience – just right-click, and click "Save Image As…"
3. Source Free Stock Photos and Videos to Use in Your Facebook Cover Photo
What if you don't have any striking images or video footage to use on your Facebook Page? No problem!
There are plenty of free stock photo and video websites out there, such as Shopify's Burst, Pexels, Unsplash, Pixabay or Life Of Vids.

4. Facebook Pages and Profiles Display Cover Photos Differently
When making your Facebook cover photo, it's worth bearing in mind the differences between Facebook Pages and Facebook profiles.
On Pages, Facebook cover images are completely unobstructed:
However, on Facebook profiles, there are various elements displayed on top of your cover photo. These include the profile picture, name, and buttons such as "Follow" and "Message."
Make sure to take these additional elements into account when designing your Facebook cover photo.
5. Stick to Facebook's Guidelines
Most of Facebook's guidelines are simply common-sense.
However, it's worth reading them in order to avoid a silly mistake that might result in Facebook removing your Page from the site.
These guidelines include:
Don't use copyrighted materials that you don't own or have a license for.

Make sure your Facebook cover photo is family-friendly and safe-for-work.

If you directly advertise a product or service in your Facebook cover image, make sure you're not violating any of

Facebook's advertising rules

.
For more information, check out Facebook's page guidelines.
6. How to Change Your Facebook Cover Photo
Once you've created your Facebook cover image or video, uploading it to Facebook couldn't be easier.
Just head to your Facebook page, click the camera icon, and then click "Upload Photo."

Facebook Cover Photo Best Practices
Now that you know the practicalities, here are four best practices for creating an engaging Facebook cover image.
1. Use an Image with a Strong Focal Point
In general, it's best to avoid abstract images that don't serve a clear purpose.
Remember, your Facebook cover photo is an opportunity to capture and direct the attention of visitors. So use an image that grabs people's attention and elicits curiosity.
Your image should also be in keeping with your brand's look and feel.
In the example below, Tesla displays a stunning image featuring their key product, the Model 3. Notice how the road and sunset draw your attention to the car?
2. Place the Emphasis on the Right of the Image
The Facebook profile picture and sidebar are on the left-hand side of the page, so cover photos tend to look best when the focal point is on the right-hand side of the image.
Let's look at two examples to see the difference. This first Facebook cover photo is from juice store Press London:
This second Facebook cover image is from glasses wax store Nerdwax:
Both images are well-designed and compelling.
However, can you see how moving the emphasis to the right-hand side of the page provides an additional sense of balance?
There's also a more tactical benefit to drawing the viewer's attention to the right-hand side of the page: this is where the Facebook Page call to action is located.
Take this example from a glasses store Sunday Somewhere. Notice how the eye is drawn over and down to the call to action?
3. Don't Include Small Text or Visual Elements
You need to make sure that any text or visual details you include are large enough to be viewed easily on a small smartphone screen.
This is important to consider when the vast majority of Facebook users access the site from smartphones:
4. Update Your Facebook Cover Photo Regularly
Facebook cover photos present a fantastic opportunity to communicate with your target audience, so take the opportunity to update your message regularly.
In the example below, Black Milk Clothing use their Facebook cover image to promote their Wild Hearts collection:
This Facebook cover photo helps to increase awareness of their collection while the time-sensitive offer helps to create urgency among visitors.
What Makes a Good Facebook Cover Photo?
Every brand and business is different so there is no one size fits all when it comes to what a good Facebook cover photo is. But there are a few things to consider that improve your Facebook marketing game. 
Optimize for Mobile
Although when we are looking at our Facebook profiles and changing our cover images we are on desktop, the vast majority of people who look at Facebook are doing this through mobile devices. This means that you need to make sure your cover image conveys the same message on desktop and mobile. 
Branding
Consistent branding with your Facebook profile is super important as your customers want to know straight away that your profile is the right one and not a fan/spam account. Creating a Facebook cover photo that is inline with your brand guidelines will foster trust with customers. This includes using colors that are associated with your business, making sure that your language is consistent, and repeating messaging you use on your website within your images. 
CTAs Rule
Images are great. They can be eye catching, motivational, and viral. But nothing can beat a cover photo with a call to action. Your cover photo can be used to promote a sale you have on, or a new product that you launched. Whatever is new to your business you should push your customers to find out more through prime real estate on the top social media platform.
Test Videos and Images
Sometimes cover images are not the best media for Facebook. Testing videos and images can help you to understand what your customers want. Maybe images are great for engagement within Facebook, but videos help to motivate your customers to visit your website. You will never know what motivates your customers until you test your scenarios.
Make It Engaging
All images should be created to push engagement, and Facebook cover images should be no different. Creating images that people want to share with friends and family will mean free exposure and branding from people who like you and your business. Social proof is way more important in today's ecommerce landscape than advertising and marketing. If your audience is down with sharing your images, you have our permission to create the most engaging content ever!
9 Facebook Cover Photo Ideas From Successful Brands
Now that you have the tools and best practices under your belt, here are nine inspiring Facebook cover image ideas from successful brands.
1. Present Your Key Selling Proposition
One of the best ways to use your Facebook cover photo is to highlight your key selling proposition or benefit.
To understand your business's key selling proposition, simply ask yourself, "what is the key benefit we provide to customers?"
Here's how Shopify app Automizely does it on its Facebook page:
In another example, TED promotes the key benefit of their service TED Recommends:

2. Capture Attention with an Animation
If you like the idea of a Facebook cover video, but you don't have the time, budget, or expertise to create a compelling video, why not create a GIF?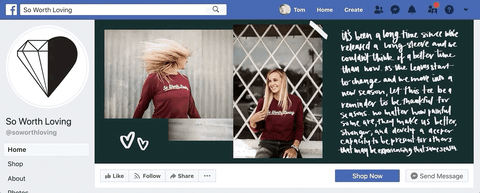 To create a GIF, use a free tool like Giphy Capture or Tumblr's GIF maker.
3. Create a Slideshow of Images
Not only can you use photos, videos, and GIFs in your Facebook cover image, you can also upload multiple images to create an image slideshow.
Here's an example from travel bag brand Minaal: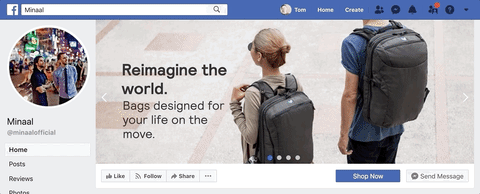 To add multiple images, add a single image first, then click the camera icon to reveal the menu, and click, "Edit Slideshow."
If you're not sure which photos to include in your Facebook cover slideshow, you can always allow Facebook to automatically select which photos appear by using the toggle in the upper right-hand corner of the screen.

4. Feature Your Products
If you're not sure what to use as your Facebook cover photo, you can't go wrong with a great product photo. Plus, it can save time and money to simply use an image you already have.
Here's a great example from Dollar Shave Club:
5. Promote Your Social Media Campaigns
Many businesses create branded hashtags to increase social engagement with consumers. Why not create your own branded hashtag and promote it in your Facebook cover photo?
Here's how fitness apparel brand Gymshark does it:
6. Keep it Simple
When it comes to creating images that customers will love, keeping it simple is the most important aspect. Creating images that have more than one CTA, too much movement, or information overload will scare people away. Landing pages are for informational purposes, images are snapshots of the most important information.
If you're really struggling to find that perfect idea, just keep it simple. Some of the largest brands in the world have created empires using simple but powerful visuals.
Take Nike – their Facebook cover photo just features their slogan in black and white:
7. Feature Faces in Your Image
People are instinctively drawn to other people.
So much so, that one study discovered photos with faces are 38 percent more likely to get "Likes" on social media than photos without faces. Photos with faces are also 32 percent more likely to attract comments.
Jewellry brand Biko is taking advantage of this natural phenomenon:
8. Keep it Seasonal
There's always something happening – whether it's Halloween, Black Friday, Christmas, or just one of the four seasons! So try mixing things up throughout the year by creating timely Facebook cover photos.
Candy store Sugarfina updated their Facebook cover image for the lunar new year:
9. Pair Your Facebook Cover Photo with Your Profile Picture
To create a more professional and cohesive brand look, it can help to match your Facebook cover photo and profile picture.
Compare the previous example from Sugarfina to this next one from Target:
Notice the increased impact when the Facebook cover image and profile picture match?
Facebook Cover Photo Makers
Many tools exist that can help you create Facebook cover photos so you don't need to communicate with a designer every time you need a new image. Below are the five most popular Facebook cover photo makers, along with links to the templates so you can start creating a cover image now.
Canva is an amazing tool to create images for any platform but especially for Facebook cover photos. Their cover photo template is easy to use too. You simply pick a layout and choose images, fonts and colors that suit your brand, and you are done!
With Adobe Sparks you can create stunning Facebook cover photos for free. This tool helps to design striking banners that amp up your brand and draw in your audience in seconds. Plus, they look super professional.
Bannersnack has lots of templates to start with where, simply dragging and dropping an image and some text will give you great results in minutes. This free tool also has millions of stock photos and animations to use. 
Create eye-catching Facebook cover photos with Fotor that will express the emotions of your brand in just a few clicks. In four simple steps you can have the perfect asset for your Facebook strategy that increases engagement among your followers.
Crello allows you to make Facebook cover photos or videos that your followers will love. Their templates offer inspiration and creativity to users so they can create assets that normally would be outside of their scope. With Crello you can compete with the bigger brands in your market.
Summary
Facebook cover images are a fantastic opportunity to promote your brand or amplify a specific marketing message to your target audience.
Remember:
Facebook cover photos are displayed at 820 pixels wide by 312 pixels tall on desktops, and 640 pixels wide by 360 pixels tall on mobile devices.

It's best to create an image that's 820 pixels wide and 462 pixels tall while remembering that the top and bottom of the photo will be cropped by 75 pixels each on desktop devices.

The same goes for Facebook cover videos.
When creating your Facebook cover photo, keep in mind these best practices:
Direct viewer's attention

by using an image with a strong focal point.

Place the emphasis on the right-hand side of the image to visually balance the Facebook Page layout.

Avoid including small text or visual details that will be difficult for smartphone users to see.
Lastly, after you've created and uploaded your Facebook cover photo, be sure to check how it appears on different devices and make any necessary changes. That way, you can be certain it will look great to everyone!
What type of Facebook banner are you about to create – photo, video, slideshow, animation, or video? Let us know in the comments below!
Start selling online now with Shopify
Start your free trial
Want to Learn More?